Currently Culver City bans billboards.  The Carlyle Group, an investment firm, wants to advertise to the new traffic coming into the Playa Vista Silicon Beach area.  Once there is an ordinance for Culver City to allow billboards in Fox Hills, it opens up the rest of Culver City to more digital billboards or lawsuits.  We are trying to stop these large digital double-sided 14 ft x 48 ft billboards from initially occurring in Fox Hills and affecting the rest of Culver City.  Culver City will make only $420,000/year if they allow this. The Carlyle Group will make $3,780,000/year once they put up these billboards. They are attaching the "visioning" of other improvements to Fox Hills, but none of the improvements will take place without the billboards. Right now our Mayor, Meghan Sahli-Wells, is the only member of the city council to vote against studying the proposal for the hospitality and entertainment plan.
The Project includes ten sign faces; 5 are electronic and 5 are static. All faces (with the exception of the static face on the hotel building, the size to be determined) are 14 ft height x 48 ft length.
Original Plan for billboards from the Carlyle Group – link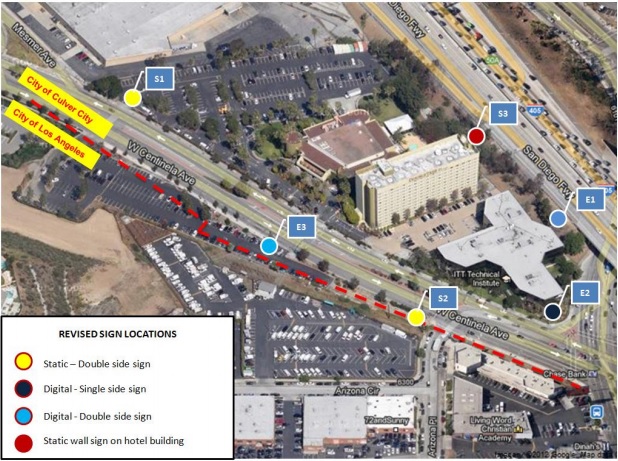 New "Vision" Proposal from Carlyle Group – link
Please Note – – The Carlyle Group owns the Double Hotel and some property surrounding it, but does not own all  the land they are "visioning" to change.  They cannot make any of these changes unless they buy the land, or according to Placeworks*, suggest that the current business owners make these changes after the survey results are presented.*Placeworks has been hired by Culver City to oversee the "visioning" process for the developers.
Meghan Sahli-Wells, Culver City Mayor – Why She is Against the Billboards
–
link
Petition to ban billboards in Culver – link
---
Articles Regarding Billboard Proposal in Culver City